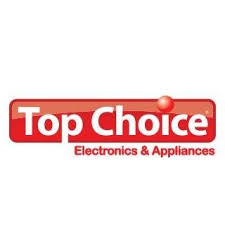 Top Choice has become synonymous with domestic appliances and electronics on the island. They sell a wide range of top renowned brands such as LG, Apple, Samsung, and Beko to name a few. They excel in customer service and after-sales service too.
Their vast selection of products includes televisions, surround sound systems, gaming consoles and headphones in the sound and vision category, and laptops, pc peripherals tablets and gaming accessories in the I.T. and Office category. Top Choice also sells the latest smartphones along with cordless and corded telephones.
Not only do they sell electronics but also household goods and appliances. From iron boards to microwaves and kettles, to fridges and freezers, to fans and heaters, to vacuum cleaners. They really do have all you require for your household!
Apart from their 3 outlets where you can go and see their products for yourself, you are also able to purchase anything you desire through their online website, with delivery right to your doorstep.
Whether you're a new couple settling in, an electronics enthusiast or looking to modernise your home through new appliances, Top Choice is the shop for you!

Contact:
Website: https://topchoice.com.mt/
Social Media:
Email:
Telephone: +356 2334 2000
Top Choice – Electronics & Appliances Hamrun Outlet
Address: 280, St Joseph High Road, Hamrun, HMR 1011
Opening Hours:
Monday – Friday : 9:00 – 19:00
Saturday:9:00 – 13:00
Top Choice – Electronics & Appliances Zabbar Outlet
Address: Villabate Street, M'Scala By Pass, Zabbar, ZBR 9043,
Opening Hours:
Monday – Friday : 9:00 – 13:00 & 16:00 – 19:00
Saturday: 9:00 – 13:00
Top Choice – Electronics & Appliances St Paul's Bay Outlet
Address: Erba Mwiezeb Road, St Paul's Bay, SPB 3170,
Opening Hours:
Monday – Saturday: 9:00 – 19:00
Top Choice – Electronics & Appliances Customer Care
Address: 18, Triq Gharram, Zebbug, ZBG 2860
Opening Hours:
Monday – Friday: 8:00 – 13:00 & 14:00 – 17:00
Top Choice – Electronics & Appliances Head Office
Address: 18, Triq Gharram, Zebbug, ZBG 2860
Opening Hours:
Monday – Friday: 9:00 – 13:00 & 14:00 – 17:00